Gaza Military Factions: Who are they?
Throughout the continuous conflict between Israel and Gaza, military factions are often very vocal regards to their commitment to the "resistance", but it's not always clear as to which diplomatic party they belong too and what there emblems/logos are. This article hopes to serve a purpose as an "index" of factions and will be updated when new ones come "into play". Over time I plan to write more articles delving into each one more.
Hamas is the political party that governs Gaza, in 2007 they gained power by overthrowing another faction through a coup. Since then they have been the main political and military influence in Gaza. Their current leader Yahya Sinwar was once the the leader of the main military wing Izz ad-Din al-Qassam Brigades (Al-Qassam for short). The Al-Qassam Brigades are made up of 8 separate units as follows, we will expand on some of these units in future articles in more detail:
وحدة المشاة - (Wahdat Al-Mushat) - Infantry Units, it is estimated that 85% of Al-Qassam's forces are members of this unit.

الوحدة الخاصة - (Wahdat Al-Khassa) - Special Units Tasks, believed to be behind the Infiltration into Israel and kidnap Soldiers (Oron Shaul was kidnapped by this unit in 2014 )

وحدة الهندسة - (Wahdat Al-Hindisa) - Engineering Units, This unit are generally tasked with digging and creating tunnels leading into Israel.

وحدة الدروع - (Wahdat Al-Doru) Armored Unit, this unit is generally the one photographer when threatening the IDF of attacks against Merkava's.

وحدة الدفاع الجوي - (Wahdat Al-Difa' Al-Javviyah) - Air defense units, known to posses DShK and ZPU-14.5 and 9K32 Strela-2 fire power.

وحدة المدفعية - (Wahdat Al-Midfa'yah) - Artillery Units, the creators of the Qassam Rocket, which was first used against Israel in 2001.

وحدة الظل - (Wahdat Al-Zell) - Shadow Units, tasked with hiding militants wanted by Israeli authorities and the IDF. Larger presence in the West Bank.

الضفادع البشرية البحرية - (Al-Dhafadi' Al-Bashariat Al-Bahriah) Frog Unit/Naval Commando, responsible for the Zikim Beach raid in 2014. The reason why the sea barrier was built in 2018 to stop this recurrence.
there are several variations of this logo and some Martyr Brigades modify them slightly.
There are several other militant groups connected to Hamas in Gaza, below are ones that are known and a brief description of their role(s).
El-Wafa is an Elderly Nursing Home, shelled by the IDF in 2014 for housing Qassam Rockets and Al-Qassam militants.
Above is the emblem of the Islamic Bloc, they are the Student Youth Movement for Hamas.
Below is a collection of Son of Zawari logos, these units are directly connected to Hamas and are often used as tool to apply pressure to Israeli political echelons during times of tension/"ceasefires" to demand concessions from them.
Below are two Night Units logos. The Night Units are used by Hamas a second form of escalation against Israel as a way to continue adding pressure.
Below are additional units that are utilizing during Night Unit activities and/or also included in escalated Great Return Marches.
The Kushuk Unit are the main militant group known for igniting and burning tyres.
Group dedicated to Mohammed Abu Harb who was an Al-Qassam militant, focus on IED balloons.
Group dedicated to Mohammed Al-Hamaydeh from Al-Qassam, involved in IED Balloons and working with the Kushuk Unit.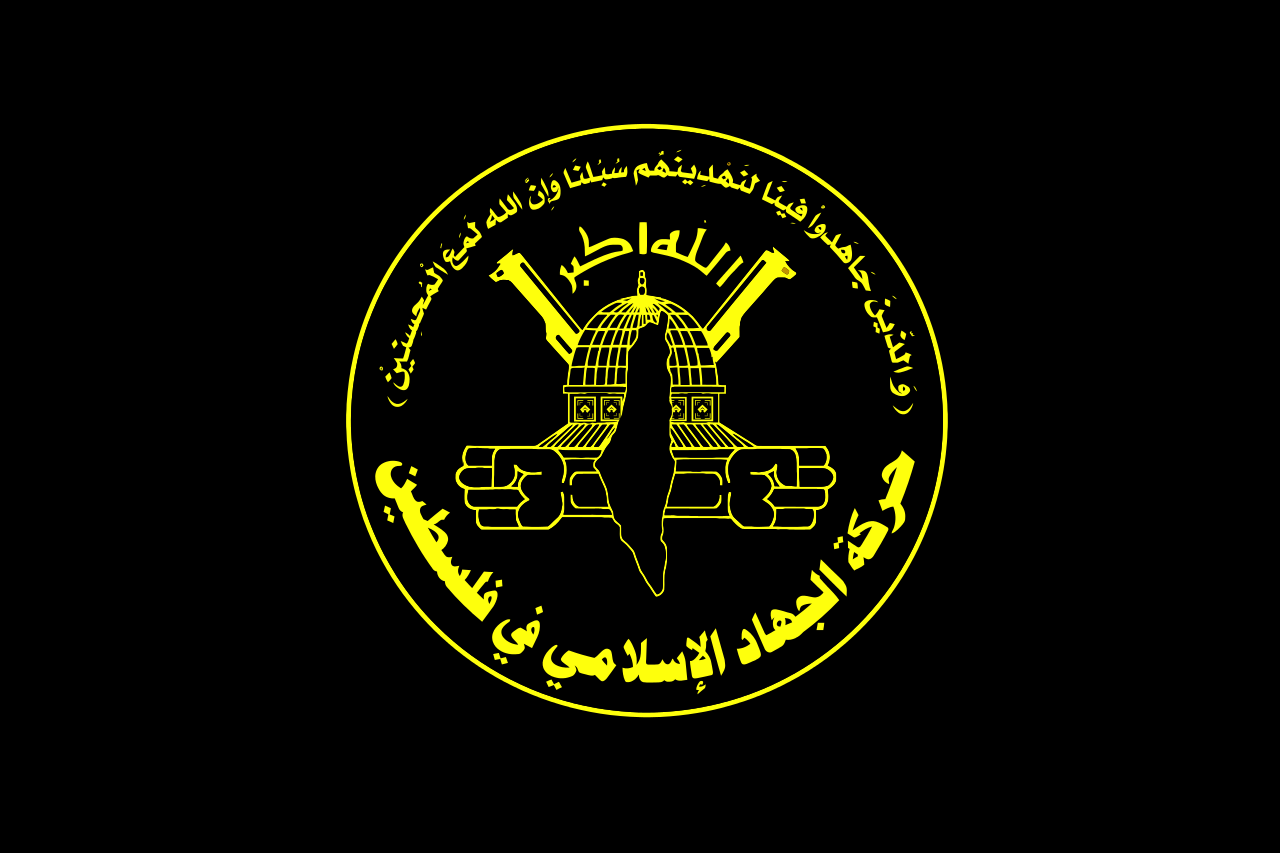 Palestinian Islamic Jihad
The Palestinian Islamic Jihad (PIJ) are the second largest factions within Gaza behind Hamas. They are known for being more extremist in their "resistance" against Israel. It is known that the PIJ are a proxy of Iranian influence on the southern border of Israel in Gaza. The PIJ has a military wing called Saraya Al-Quds. Similar to Al-Qassam it is made up of several units, Infantry, Anti-Air, Artillery and Naval Commando. They Artillery Unit has made a name for itself in the last two conflicts between Gaza and Israel due to the introduction of "Ashkelon Hell" and "Badr-3" rockets which have been able to penetrate through the Israeli Iron Dome System. We will touch on these in more details in future articles. Below are emblems of some of the militant units linked to the PIJ.
The Palestinian Alliance Force is a group that used in communication between the PIJ in Gaza and PIJ representatives in Lebanon. Often used in discussions between PIJ Leadership member Ziyad al-Nakhalah and Hezbollah.
Barq Unit are the PIJ version of Son of Zawari, they are responsible for creating IED balloons and IEDs for Night Unit activities on the border.
In 2007, Fatah lost the last parliamentary election in Gaza. Between June 10th and 15th 2007, Hamas fought a civil war against Fatah to gain political power. Despite this, Fatah Movement military wing Al-Aqsa Martyr's Brigades still is very prominent and has a large presence in Gaza. In the May 2019 tension were over 700 rockets were fired towards Israel the IDF targeted several leaders of the Al-Aqsa Brigades, they did survive the IDF strike and were pulled from the rubble.
One thing that is common with all militant groups linked to Al-Aqsa Martyr's Brigade is that their logo all include the Dome of the Rock, except one, which shows the true Al-Aqsa Mosque. The brigades are made up of many smaller militant groups dedicated to fallen militants, several are shown below.
Popular
Resistance Committee
The Popular Resistance Committee was formed in during the second Intifada in Gaza by members of Fatah who became opposed to the Palestinian Authority (PA) . The PRC are said to be the 3rd largest militant group in Gaza behind Hamas and the PIJ. The PRC shares very strong ties with both these parties, however they do not involve themselves with many political issues, distancing themselves from the PA and PLO. There is very little different between PRC and their military wing Nasser Salah Al-Din Brigades. It is also believed that the PRC receive funding from Iran.
Due to the close ties with Hamas and the PIJ, Nasser Brigades share a significant number of rockets with them. Nasser have access to the home built M75's and J80's used against Israel in recent rounds of escalations.
These close ties are shown through other means too, they also have two IED balloon Units. One is dedicated to Muhammad Walid al-Quqa, who was 37 at the time of his death. Al-Quqa was the head of Hamas's Al-Qassam Explosives Unit. The other unit is dedicated to martyrs of Nassar. Their logos are below.
Popular Front for the Liberation of Palestine (PFLP)
The PFLP is known for opposing to serve in the PA government and has been critical of its policies, particularly regarding security coordination with Israel. The PFLP does not support the two-state solution and instead calls for the liberation of all of historical Palestine. the PFLP has one main military wing, but is that all? Abu Ali Mustafa Brigades is known for the assassination of the Israeli minister of agriculture Rehavam Ze'evi in October 2001.

Have you ever heard of Mohammed Jihad Ahmed Jibril? He was the founder of the PFLP General Command which is the PFLP movement in Syria. He was assassinated on 20 May 2002 in Beirut, Lebanon, surprisingly it is believed Israel are behind this. Due to this a group calling themselves Jihad Jibril Battalions are a militant group dedicated to him in Gaza. They are believed to receive funding from PFLP and other sources in Syria.
Democratic Front for the Liberation of Palestine (DFLP)
The DFLP is believed to receive limited financial and military aid from Syria similar to the PFLP. DFLP is believed to still be a ctive in the Palestinian refugee camps. The DFLP's leader, Nayif Hawatmeh lives in Syria. The DFLP is for Palestinians who are more secular, and preferred by Christian Palestinians. They have a larger presence in the West Bank than Gaza but still have an active military unit in Gaza which continues to train in bases in Rafah and Khan Younis.
Within Gaza there are several militant groups that are Salafist based, several have ties and links Al-Qaeda, if not linked they share the same ideology as them. These groups are generally backed by the Mujahideen Shura Council in the Environs of Jerusalem which was formed in 2012. The group self describes violence against Jews as a religious obligation that brings its perpetrators closer to God. It believed that prominent weaponry for these groups is smuggled over the border from Egypt.
The Mujahideen Movement military Wing Mujadideen Brigades have strong ties with Hamas and the PIJ, formed since the councils beginning in 2012. Due to this it has gained reported financial support from Hezbollah in Lebanon. The strong ties are continued by their support of all forms of resistance, including partaking in Night Unit, IED Balloons and Great Return Marches via Wad Al-Tharir.
Closing Statement
I appreciate this is a quick whirlwind of an article with hopefully lots of new information on factions and visual representations of them and hopefully this will now help you identify them. I plan to delve into individual ones more in future articles.
Thank you for reading.